Camryn Greenies

Restion

Character
Biographical Information
Alias:
Cam (by Her Mother)
Cammie
Sweetie Pie
Honey bunches of oats (by Jonald)
Gender:
Female
Status:
Alive
Birthdate:
February 27, 2005
Home:
Pridor, Restion
Occupation:
Student
Family:
Romances:
Physical Description
Species:
Evolved Human
Hair color:
Blonde
Eye color:
Blue
Show Information
First mentioned:
"The Great Evil"
First appearance:
"The Great Evil"
Latest appearance:
"The Great Evil"
Relevant Pages
No Gallery

 Camryn Greenies  is the 13 year old sister of Torrid Greenies and the second oldest daughter of Teri and Dwayne Greenies and the third imprintee of Jonald Everson.
Personality
Camryn is the ESFP ("The Entertainer") type. She gets caught up in the excitement of the moment, and she wants everybody else to feel that way, too. She's generous with her time and energy when it comes to encouraging others, and she does it with such irresistible style. She's a born entertainer, she loves putting on a show for her friends too, she chats with a unique and earthy wit, soaking up attention and she makes every outing feel a bit like a party. She's utterly social, she enjoys the simplest things, and there's no greater joy for her then just having fun with a good group of friends.
It's not just talk either - she has the strongest aesthetic sense of any personality type. She has an eye for fashion, knowing what's attractive the moment she sees it. She isn't afraid to change her surroundings to reflect her personal style. She's naturally curious, exploring new designs and styles with ease. Though it may not always seem like it, she knows it's not all about her - she is observant, and very sensitive to others' emotions. She is often the first to help somebody talk out a challenging problem, happily providing emotional support and practical advice.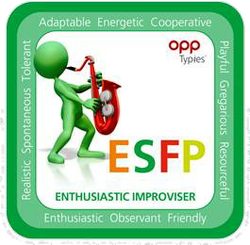 Powers & Abilities
Applications
Techniques